Unlockings Skills: Gaining and Performing Expertise in Pre-1911 China
November 21-22, 2017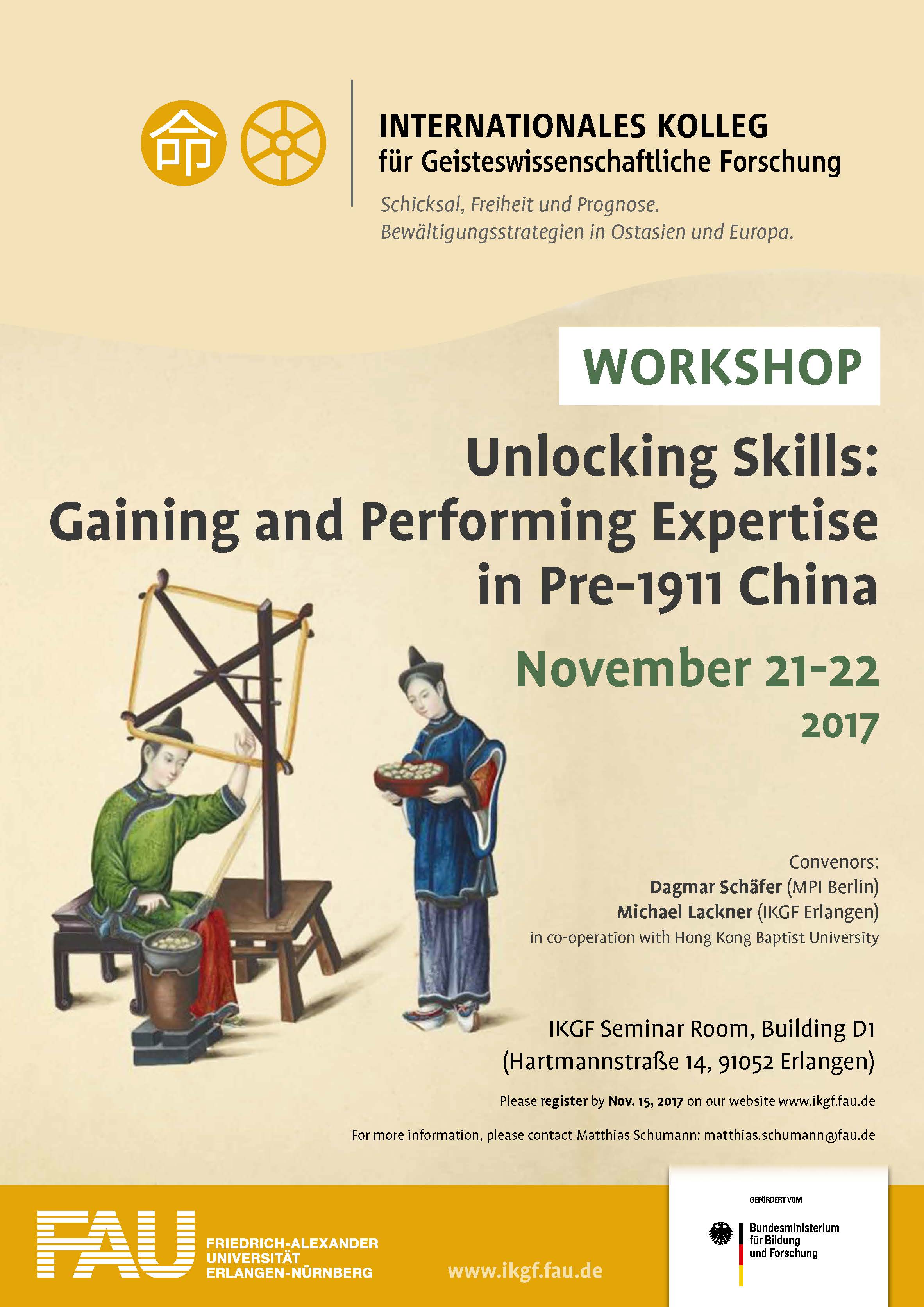 Convenors: Dagmar Schäfer (MPI Berlin) & Michael Lackner (IKGF Erlangen), in co-operation with Hong Kong Baptist University
Location
IKGF Seminar Room, Building D1
Hartmannstraße. 14,
91052 Erlangen

This workshop studies processes of gaining and performing expertise in pre-1911 China. The participants look at the role of moral adequacy, explanatory depth, and faithful memory (i.e. for the replicability of procedures), as well as the social, economic, and political conditions for expert knowledge and performance. The contributions specifically explore the differences between knowledge and texts (or other media of representation). They seek to understand who was a legitimate specialist in fields such as ritual performance (zhu 祝), archery (射), medicine (醫), divination (bu 卜), and the hundred crafts (百工) and what was the role of education, performance, social and political status. Of particular interest will be the varied traditions of judgment and procedures of decision-making (within and outside state governance) in which expertise had its "Sitz im Leben".
For more information, please contact Matthias Schumann (matthias.schumann@fau.de).
Downloads
Poster
Flyer
Programme
November 21, 2017
14:00 p. m.
Welcome and Introduction


Dagmar Schäfer and Michael Lackner

Section I: Divination

14:15 p. m.
Oracle Bone Procedures of Decision-Making: Diviner's Inquiries as a Process
Adam Schwartz (Hong Kong Baptist University)
15:00 p. m.
Self-made Diviners? Text Learning and its Limitations in the Case of the "Stalk Divination" (Shifa 筮法)
Zhao Lu (MPI Berlin)
15:45 p. m.
Coffee Break

Section II: Artisanship

16:15 p. m.
"錫金"與"擇吉金"——銅料選擇和銅器鑄造的社會意義 (Awarding metal and selecting good metal, with comments on the social function of casting bronze vessels)
Xu Fengyi (Hong Kong Baptist University)
17:00 p. m.
Making Artisans Accountable: Silk and State in Tang China
BuYun Chen (MPI Berlin)
19:00 p. m.
Dinner

November 22, 2017
Section III: Technology and Administration

9:30 a. m.
Silver Mining in the Far Southwest of Ming and Qing China: Technologies and Specialists in a Grey Zone
Nanny Kim (Heidelberg University)
10:15 a. m.
Hydraulic Planning and Hydraulic Expertise in Late Imperial China: The Case of the Yellow River in Shandong
Iwo Amelung (Frankfurt University)
11:00 a. m.
Coffee Break

Section IV: Martial Arts, Health, and Religion

11:30 a. m.
Medical Practice during Twelfth-century Song Dynasty - Canons and Experience
Asaf Goldschmidt (Tel Aviv University)
12:15 p. m.
Religious Expertise? Learning and Legitimacy in Republican Spirit-Writing
Matthias Schumann (IKGF Erlangen)
13:00 p. m.
Lunch Break

14:15 p. m.
Texts and Expert Knowledge in Inner Alchemy
Fabrizio Pregadio (IKGF Erlangen)
15:00 p. m.
Is the Pen Mightier than the Sword? Inventing the Image of the Scholar Warrior in the 18th Century
Israel Kanner (Tel Aviv University)
15:45 p. m.
Coffee Break

Section V: Architecture

16:15 p. m.
An Approach to the Expertise of Construction in Ming Times: The Figure of Miaofeng, Monk and Architect
Caroline Bodolec (EHESS Paris)
17:00 p. m.
Concluding Discussion

International Consortium for Research in the Humanities
"Fate, Freedom and Prognostication. Strategies for Coping with the Future in East Asia and Europe."
Friedrich-Alexander-Universität Erlangen-Nürnberg
Hartmannstr. 14
91052 Erlangen
Telefon: +49 (0)9131 85 - 64340
Fax: +49 (0)9131 85 - 64360
E-Mail: Petra.Hahm@ikgf.uni-erlangen.de
---